2021 Canadian MLB Awards
With another MLB season in the books it's time for the third annual Canuck Baseball Plus MLB Canadian Awards. Apologies for those who were awaiting for our 2020 picks – we were on a break. Last year was not a great season for Canadians in the MLB anyways but luckily 2021 was. So without further ado here are your winners.
Most valuable Canadian (MVC):
2019 Winner: Freddie Freeman.
2021 Winner: Vlad Guerrero Jr.
123 runs, 48 home runs, 111 RBI, .311 batting average, .401 OBP.
If we had given out hardware in 2020, Freeman would have undoubtedly won the MVC. In 2021 the reigning NL MVP had a solid season, hitting .300 and slugging over 30 homers. But even so Guerrero Jr. blew him and all the Canadian competition out of the water.
At 22 years of age, Guerrero Jr. put the league on notice. He led the AL in runs (123), homers (48), OBP (.401), slugging percentage (.601), OPS (1.002), OPS+ (169) and total bases (363). His 48 long balls almost tied Larry Walker's all time Canadian single season home run record of 49.
The Blue Jays first baseman dominated the MVC race all season long but there was a healthy amount of other Canadian talent. Cardinals outfielder Tyler O'Neill hit 34 homers, stole 15 bases and continued to play stellar defence in left field. At 38, Joey Votto had a come back year to remember, hitting 36 homers…but more on that later.
Canadian Cy Young (aka the "Jenkins")
2019 Winner: Mike Soroka
2021 Winner: Cal Quantrill
8-3, 2.89 ERA, 1.18 WHIP, 121 strikeouts
Last time we gave out the Jenkins, Soroka was the talk of the Canadian baseball town. The Braves righty had an all star campaign in his rookie year, finishing second in NL Rookie of the Year and sixth in the NL Cy Young race. Unfortunately the now 24 year old has made only 3 starts in the last two seasons due to a string of injuries.
But even without Soroka an impressive crop of Canadian pitchers emerged in 2021. Like Guerrero Jr., Quantrill is the son of a former all star and Canadian Baseball Hall of Famer (Former Blue Jays reliever Paul Quantrill). And like Guerrero Jr., the former first rounder did not live up to the hype in his first two seasons.
But since a mid-2020 trade from San Diego to Cleveland, Quantrill has been dominant, going 8-3, with a 2.73 ERA and 8 strikeouts per nine innings during that span. In the second half of 2021 he was even more lights out, posting a 1.93 ERA and keeping opponents hitting only .204.
Blue Jays closer Jordan Romano would have finished a close second if there was more than one voter for these awards. The 28 year old reliever, who grew up in the Toronto-area, became the first Canadian to save more than 20 games (23) since John Axford did so in 2016. He also set the record for most Saves by a Canadian Blue Jay, a record that had been held by Cal's Dad up until this year.
Nick Pivetta revitalized his career after being traded to the Red Sox in late 2020. The Victoria, BC-native reestablished himself as a big league starter, setting a career high with 9 wins and striking out 167. He also emerged as an October standout in Boston's unexpected playoff run this year.
Rookie of the Year (aka the Jason Bay Trophy)
2019 Winner: Mike Soroka
2021 Winner: Zach Pop
50 games, 4.12 ERA, 1.43 WHIP, 51 strikeouts
In 2019 Soroka led an impressive crop of Canadian rookies that included Guerrero Jr., Quantrill, Josh Naylor, Rowan Wick, Romano and Abraham Toro (the latter two saw their rookie eligibility spill into 2020).
In 2021 Pop almost won by default, as only three Canadian rookies debuted this year and the other two went a combined 0-8 in brief call ups (Jacob Robson of the Tigers and Otto Lopez of the Jays).
Even so the Rule 5 Draft pick had a solid first season, especially when you consider the last time he pitched before this year was in April 2019 and that was in Double-A.
The former Orioles farmhand looked dominant for stretches and was frequently called on to pitch multiple innings out of Miami's bullpen. His 8.4 strikeouts suggests Pop has potential to be an effective future late inning arm.
Manager of Year
2019 Winner: Bud Black
2021 Winner: Bud Black
George Gibson – 1934 is the answer to the trivia question 'who was the last Canadian born MLB Skipper?' The Canadian Baseball Hall of Famer compiled 413 career wins as a Manager with the Cubs and Pirates. But there hasn't been another one since.
Bud Black of the Colorado Rockies was born south of the border but has two Canadian parents. He therefore wins this category by default every year, even with a less than impressive season in 2021. That being said the former Blue Jays pitcher finished the season two wins shy of the 1,000th win mark and has the 66th most wins by a manager in MLB history.
If we decided to look past Black, we would have given the nod to Scott Thorman. The Cambridge, ON-native made his debut with the Northwest Arkansas Naturals, a Double-A affiliate of the Kansas City Royals this year. The now 40 year old Thorman, led his club to a 64-55 record and a Double-A Central Championship.
Will the 2000 first round pick continue to climb the organization's managerial ladder and break the Canadian MLB coach drought? He will have to leapfrog a few more established coaches but if he keeps winning titles in the minors – who knows?
Comeback Player of the Year
2019 Winner: Rowan Wick
2021 Winner: Joey Votto
73 runs, 36 home runs, 99 RBI, .266 batting average, .375 OBP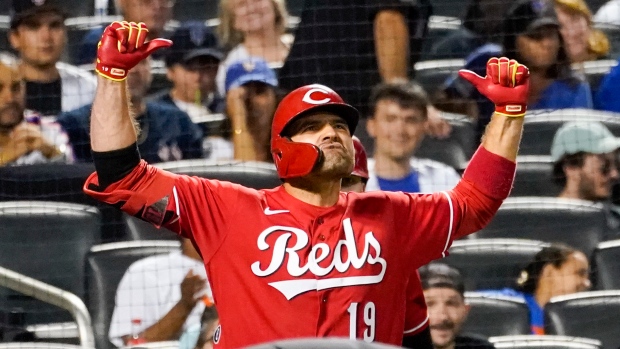 Nick Pivetta had a turnaround season that put his career back on track. Tyler O'Neill went from hitting .173 in 2020, to hitting 34 homers and being a middle of the order bat for a playoff team. But there is no question that the 38 year old Votto is the Canadian phoenix rising from the ashes in 2021.
The former MVP saw his offensive stats dwindle as he sunk further and further into his thirties. Father Time even impacted Votto's legendary good eye at the plate, as he posted his lowest career OBP in 2019 (.357) and dipped below that in 2020 (.354).
The first half of 2021 seemed more of the same as Votto hit .257, with a .347 OBP. But the Reds first baseman must have made the most of his all star break, as he went on a tear to start the second half.
Votto hit 36 home runs (one shy of his career high), posted a .400 OBP in the second half and was named the National League Player of the Month in July. Can the six time all star continue to turn back the hands of time in 2022? We will have to wait and see.
But if he can put up another season or two like 2021 he will pad his already strong case to be the third Canadian inducted into Cooperstown.
(Cover Photo Credit: Jim McIsaac | Getty Images)